Understanding Wants and Needs
Learn what it means to need something and not just want it.
Have you ever needed a new video game? Or maybe you just wanted it really bad. What's the difference? Can you really want something and absolutely need it at the same time?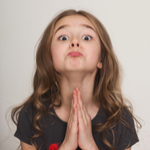 First, the bad news: you don't need a video game. They are super fun to play with your friends, but if you don't have it, nothing bad is going to happen.
So, what's the difference between a want and a need? Here is a list of some of each to help you make the decision on what to spend your hard-earned money on.
Needs:
food

water

clothing

shelter

savings

transportation
Wants:
toys

candy

video games

computer

comic books

TV
Right now, your parents probably take care of most of your needs. But learning to set aside money every month to cover them is a good skill to learn.
And you can want things you need. Like a blanket on a cold day. Being cold for too long can hurt you, so you need to stay warm and a nice comfy blanket can help with that. And being warm feels good, so you probably also want a nice, fuzzy blanket.
Needs come before wants
Another way to look at it is to ask, "Should I spend my money on this?" If your favorite shoes have a hole in them, you need a new pair. Your parents will probably buy them for you, but it'd be nice of you to help out a little—even if you just put in a dollar. Could you do that if you spent all your money on a new video game?
It's important to save up a little at a time for the things you want so you always have enough money for the things you need. As a kid, there isn't a lot you need to spend money on. As you get older, you'll be more responsible for paying for some of the things you want and need and will need to make, spend, and save more money.
Learning now when you're young is a lot easier than learning when you're older and run out of money for something you really need!